Hello! I'm Stephanie Colo Manning, MSHN. I'm a Personal Nutrition Consultant.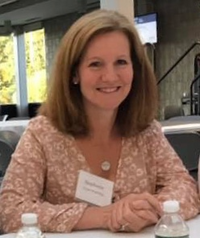 I used to struggle with ulcerative colitis (UC), an autoimmune disease of the intestinal tract, similar to Crohn's disease. These diseases can severely affect one's daily life, energy, and freedom, and can result in drastic surgery, cancer, and other serious issues.
In 2012, after 30 years of hospital visits, pain, low energy, and sleepless nights, my symptoms were worse than ever, and steroid medications no longer worked for me. I had to close my business, cancel vacations, and couldn't pick up my kids from the bus stop. My next medical option was immune-suppressing biologic drug infusions for the rest of my life, but FDA warnings of serious infections, cancers, and other side effects made me start questioning things…
I decided to try a new approach: I abandoned the standard American diet and focused on healing my gut. My health turned around within months! I couldn't believe what had just happened – after 30 years of being told, "diet doesn't really matter", I saw that the exact opposite was true – diet matters tremendously. I was able to wean off prescription drugs and improved my energy, weight, sleep, mood, and immune system. After seeing my deep remission with her own eyes, my gastroenterologist said, "You're doing all this without drugs?! Amazing. Amazing!" Before I knew it, I developed a new relationship with food, filled with gratitude and respect. I learned how delicious real, whole food could taste. I didn't feel deprived, and I began to love my new way of eating!
With growing curiosity, I immersed myself in health and nutrition research. The more I learned, the more I realized that diet and lifestyle are as much about preventative medicine as they are about healing. Craving more details and eager to help others, I then earned a Master of Science in Holistic Nutrition.
Now, I provide Personal Nutrition Consulting to people struggling with gut health, inflammation, inflammatory bowel diseases (like Crohn's and Ulcerative Colitis), and other chronic inflammatory conditions commonly stemming from gut or systemic imbalances. Read my story here and see my articles and outreach efforts here.
EDUCATION:
M.S. in Holistic Nutrition, Hawthorn University
B.S. in Electrical and Computer Engineering, SUNY Buffalo
Nutrition Conferences

: Specific Carbohydrate Diet "SCDRocks" Conferences, The Future of Nutrition Conference; The Gluten Summit; Reversing Diabetes Summit; SIBO SOS; and more.
Culinary Institute of America, Greystone

: Career Explorations Classes, St. Helena, CA

L'Academie de Cuisine

: Sauces; Dressings & Gravies; Chocolate Making Classes, Bethesda, MD

Cooking classes

: in Italy; France; Savannah, GA; Boston, MA; Corolla, NC; Vienna, VA; Ashburn, VA.
WORK EXPERIENCE:
Owner, Colo Kitchen Personal Nutrition

: Personal nutrition consulting, personal chef, 2013-present

Co-founder, Food For Thought Initiative

: A group of Loudoun County, Virginia parents encouraging our community to reduce the consumption of sugar and chemicals, while moving towards real, whole, non-processed foods. 2014-2018.
Owner, Colo Catering: Catering and meals for busy families, 2010-2013

Electrical Engineer, Marketing Engineer, Product Manager

: Start-up and Industry-leading high tech companies, 1987-2000